We Integrate Barre into our Pilates Stick & TRX Classes
The use of the Pilates Stick Apparatus adds resistance and creativity to signature Barre moves. Count on a complete body workout with deep core conditioning, pilates lengthening and strengthening.
LIFT your derrieré, TONE your thighs & legs, BURN fat and CHISEL your abs & arms.
OUR Barre-Stick Workout creates a uniquely lean, firm, sculpted body by combining the muscle-shaping practice of isometrics, the body-elongating & stretching principles of Pilates conditioning, the science of sports conditioning and the intense pace of interval training into a powerful exercise regimen that safely, efficiently & rapidly reshapes, lengthens, lifts and tones.  This no impact workout promises no bouncing or jumping, protects your joints, yet burns fat in record breaking time.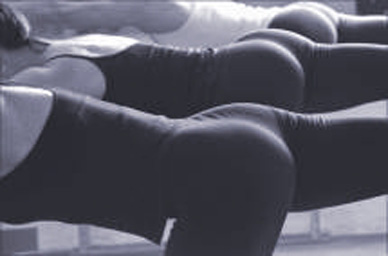 Unlike many large format classes...
Our pilates instructors will know your challenges prior to class and will offer modifications as needed. Get the attention you need to keep you SAFE, yet challenged.
Schedule a Class - North Andover
Schedule a Class - Hampstead
NEWEST ADDITION!
The S-T-R-E-T-C-H Reformer!
Designed for larger and taller individuals, the S-T-R-E-T-C-H Reformer is longer and wider than standard
pilates
reformers, providing a more comfortable fit and ride to clients.
Our clients have found improvements in their ability to achieve good form and execute their repertoire.
The S-T-R-E-T-C-H Reformer is typically found in NFL, MLB, and Olympic training facilities.
Why Pilates?
Pilates can dramatically transform the way your body looks, feels and performs. It builds strength without excess bulk, creating a sleek, toned body. Pilates improves balance, flexibility, agility and economy of motion - preventing injuries and chronic ailments. Pilates will work for you.